Instrument: XPO Logistics, Inc.
Reason: Why this one? When you look at the chart at the day i sold the Put Option it looks to me like XPO is forming a bottom. The second reason was that XPO was about to join the S&P Midcap 400 Index. It´s often the case that when a company joins an index, it will rise the next weeks/months.
First Option:
Sold 1 XPO Apr18´19 45 Put. That means i sold a Put Option to someone which ends on 18th April 2019 at a 45$ Strike. (Mr. Someone has the right to sell 100 XPO stocks for 45$ on 18th April to me. I have the obligation to buy it from him. This makes only sense if the price on 18th April is below 45$).
More than 10 % lower than the price of the stock on this day.
Entered the trade on 11th March 2019 for 1$. Bought the Option back on 1st April 2019 for 0.1$.
Second Option:
Sold 1 XPO May17´19 47.5 Put for 1.05$. Entered the trade on 1st April 2019.
XPO Logistics on the day i sold the first option: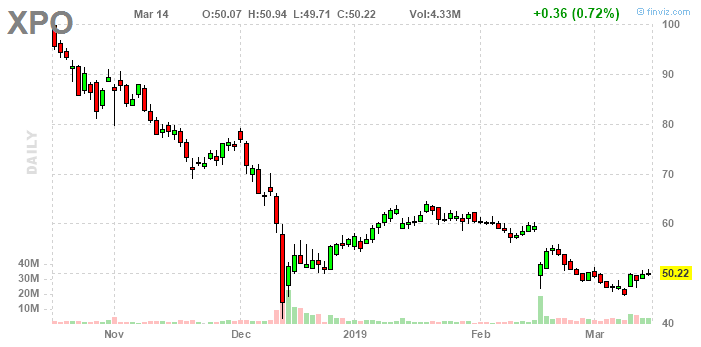 Collected First Option Premium: 88.61$
Collected Second Option Premium: ?